sheisnomad: A Girl Who Plays Football
Aidana Otorbaeva, 21
I have been playing football since 13, but my parents tell me that I started when I was four, I was always with a ball.
In my first grade I learned there was a football class for girls. But our teacher didn't take me saying I was too small. He didn't like me much as I was a tomboy. I tried again in my second grade and I was accepted then. During my very first competition I was noticed by a women's national football team manager and she invited me to a professional football. I was 8 then.
According to the manager, she noticed my ball possession and other skills. My physique was never impressive, but I was always nimble, I could easily take the most difficult ball. Maybe now managers value that in me.
There were older girls in the team, 9-10 years older than me. I was shy of them and came only to competitions skipping training for almost two years. When I was in fourth grade I started going to the drills on a regular basis to support my physical form and not to be left behind by the girls.
There was a time when my legs failed and I didn't play for around a year. The doctors told me I would never be able to play football again. It was a very hard time with physical pain and fear of not getting back to the field. Fortunately, I recovered step by step and came back to sport. Now I value every moment of a drill. If in the past I used to let myself be lazy and skip drills, now football is my priority.
There are seven football clubs in our country. One in Bishkek, one in Kant and the other in every major city except Batken and Naryn. There's a championship every year with two or three tours. And the best players get to the national team from those seven.
My family never said 'You're a girl, you shouldn't play football' to me. I am a seventh child in my family, I have six older sisters. I was always supported, my mom used to help me packing my bag for the drills. When I didn't want to go, in winters for example, when it was cold, I was always encouraged and motivated.
I wanted to become a journalist, but I was late to my entry exam. I was always interested in liberal arts and I've applied to philology department. As I write a little I wanted to learn proper writing rules. I think a man, who knows how to write and to read, will always find a purpose in life. I would like to write a book in the future about my experience. Currently I write small notes but sometimes I lack necessary words and writing skills.
Perhaps if not for football, I would be a tomboy and would have a bad company. But I never had time for that, I was always in a hurry to the drills, which I had everyday for 2-2,5 hours. But I used to manage to play outdoors again — after coming back from the drills I used to play with boys throwing my bag into the bushes.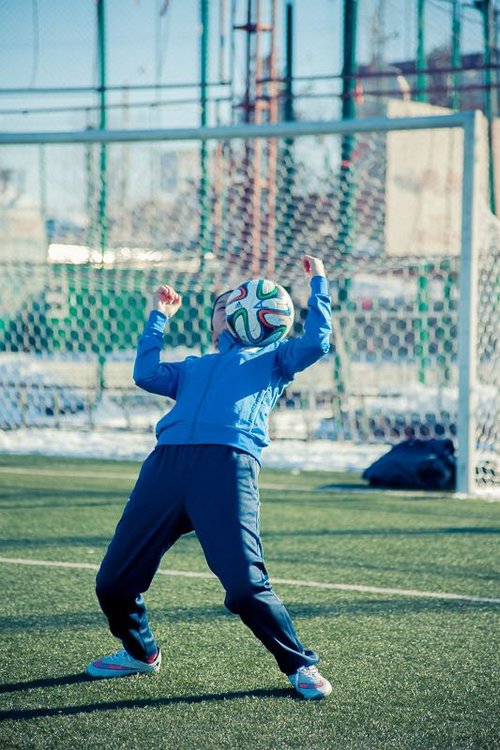 Unfortunately, women's football in our country gets much less attention than men's. There are limitations and discrimination. I am sure that male decision makers think it's not a female sport. But currently women's football is gaining traction. There are lots of little girls, who are brought to training drills by their parents.
Girls leave sport very early in the Kyrgyz Republic, at 23-24 as they either have to get married or to earn their living. Even if you play in some club, your allowance is not more than KGS 5,000. Because of the high turnover our national team is getting younger and younger — this is why there are more losses as there is not enough experience.
I am 21 and I am getting old for our football. When I come to drills, the girls joke that the 'old' one came.
Comments like 'why are you playing football, better get married' are a common thing on social media under my photos.
I am sad that girls in our football don't know how to dream and don't know where they are going. They come to drills, they train, have fun and go home. No professional targets, it is more of a hobby.
Why is here too small for me and why do I want to go abroad? To become stronger you have to play with strong.
When asked if I would change my citizenship and play for a different country, I used to say no. Today, I say yes. I know it will help our girls to see new potential. If I start playing abroad for the best clubs and possibly take part in world or Europe championships, I think it will motivate them. I may represent a different country, but I will still stay Kyrgyz.
Photos: sheisnomad.com